Audio Fun for Everyone!
Quicktime video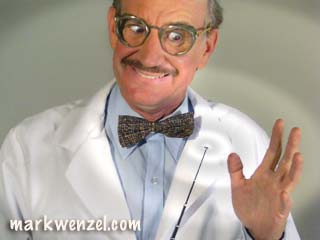 "Prof. Wes Weasely and the Theremin!"
(2 min., 9 MB)
Behold the Theremin . . .
the only musical instrument played
by not touching it!
Professor Wes Weasely invites you to make your own music. Known for its weird effects in movies and pop songs, the Theremin's unique tone modulation is now available for your guests' enjoyment. By simply waving one's hands around the electromagnetic antenna, audiences young and old are enthralled as they individually create distinct sounds, ranging from spooky to whimsical to spacey . . . .

Portable and self-contained, this is the perfect roving act. Interactive fun for both player and curious bystander, the Theremin provides great entertainment for waiting lines, conventions and parties -- almost any event, indoors or out. Children love it! Adults do too!

Mark Wenzel, with 30 years of fair, festival and theme park experience, portrays the mad scientist Professor Wes Weasely -- a guaranteed hit with his magical musical Theremin!

An Absurd Audio Attraction for Any Affair.

Safe and Sanitary!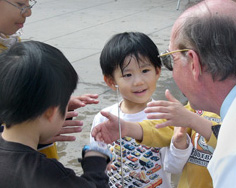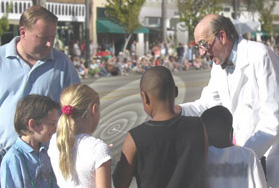 Audiences who love the Theremin:
Knott's Scary Farm
Six Flags Magic Mountain
California State Fair
Ohio State Fair
The Brewery Art Walk
The Knitting Factory
Disney Premieres "Wall-E" & "G-Force"

Legoland
UC Santa Barbara
Cal State San Bernardino
Occidental College
The Eclectic Company Theater
Knightsbridge Theater
Wisteria Music Festival

The Magic Castle
Orange County Marketplace
Old Town Pasadena
Hollywood Day of the Dead
Dr. Demento
Int'l Kid's Day Fair
Eagle Rock Music Festival

Kidspace Museum
La Habra Childrens Museum
Doo Dah Parade
Third Street Promenade
Arroyo Seco Music Festival
Film Festivals
Private and Corporate Events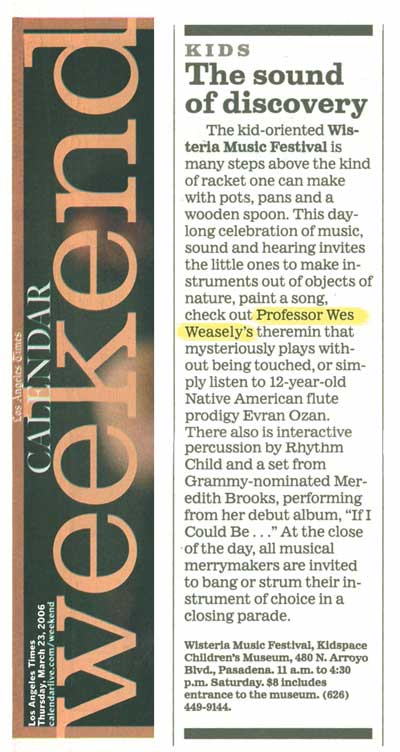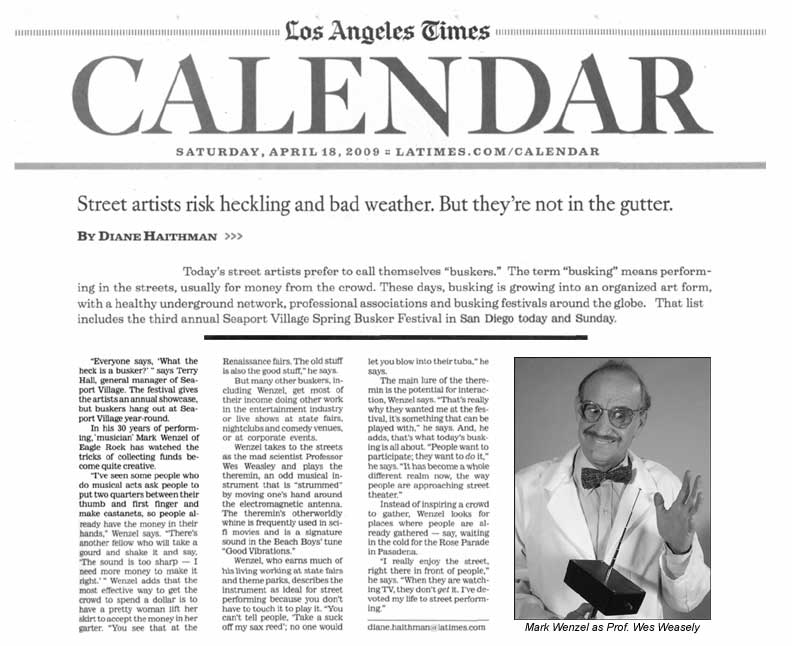 Click for full-size views